How to add privacy policies in the GDPR software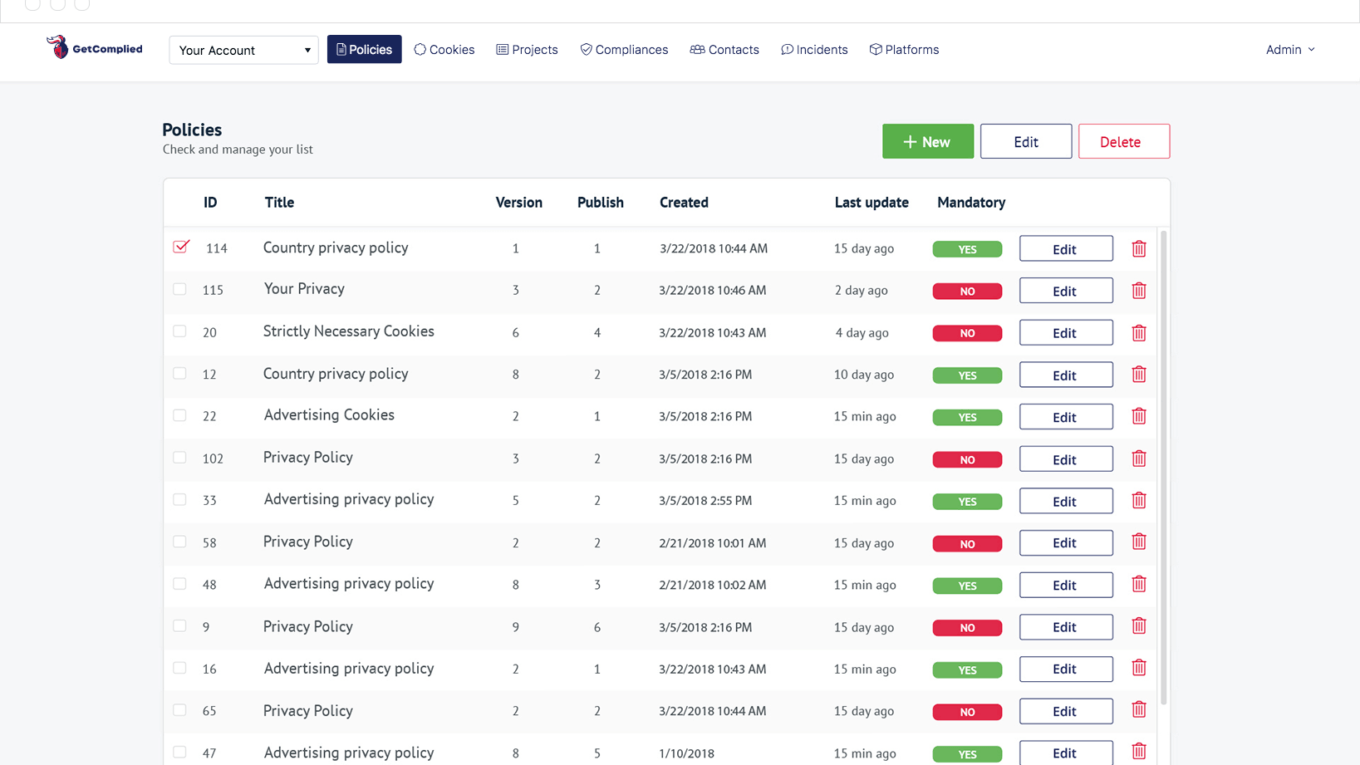 Add privacy policies in GetComplied.
First of all, you need an account in GetComplied. If you still don't have one you can do it here.
When on the main panel go to the policies section.
Time to add your policies. Click on the "new" button and you'll see the editor like bellow.
Now in this panel, you can see the following items:
1. Document – It's the name you give the file. It's not the title, it's just a name for you to identify what it is.
2. Title – The title is what people will see as the title on your privacy policy when GetComplied pops up on your website.
3. Content – Content is the privacy policy itself, the detailed text you use to inform users about your policies. At this point, you probably have one written and ready to paste it here. If not check these tips.
Note: Each legal document needs to be edited individually. If you have, for example, Privacy policies and Terms and Conditions, you need to create two separate files.
4. Language – It's the language or languages you use on your website. To edit in multiple languages you have to edit one at a time. (ex. Select English and add the English version, select French and add the French version of the text)
5. Consent is required – This is where you decide if those policies are obligatory for the user to enter the website. If it's required, users need to accept them before using your service and you need to turn that option ON. If it's only informational and it's not required you can turn it OFF.
When you are done Editing the desired documents you can click on "Save" and "Publish".
Add policies to the project.
Go to the project section.
Note: If by this step you don't have your project added yet, we recommend you to read this tutorial.
This is what you see in the Edit.
Click on the policies button (1) on the left and you'll see this.
Click on add (2) to select the policies you just created.
Select the policy, then "add" and "save"
Now when all is added you should see your project with the policies added like the one below.
To add more legal documents just repeat the process. You can add as many as you want.
That's it! You've just added privacy policies to your project and they are ready for your customers to read and agree on.
Cookies
Now proceed to add the cookies your website might use, you can find that tutorial here.
If you need help!
We have a youtube channel with video tutorials that might be useful.
If you still have any doubts, make sure you contact us either on social media or email hello@getcomplied.com
We also have a live chat you can use anytime with this icon on the bottom right corner: 
Click on it to chat with us anytime.
Was this post helpful?
Let us know if you liked the post. That's the only way we can improve.