The new standard in GDPR Compliance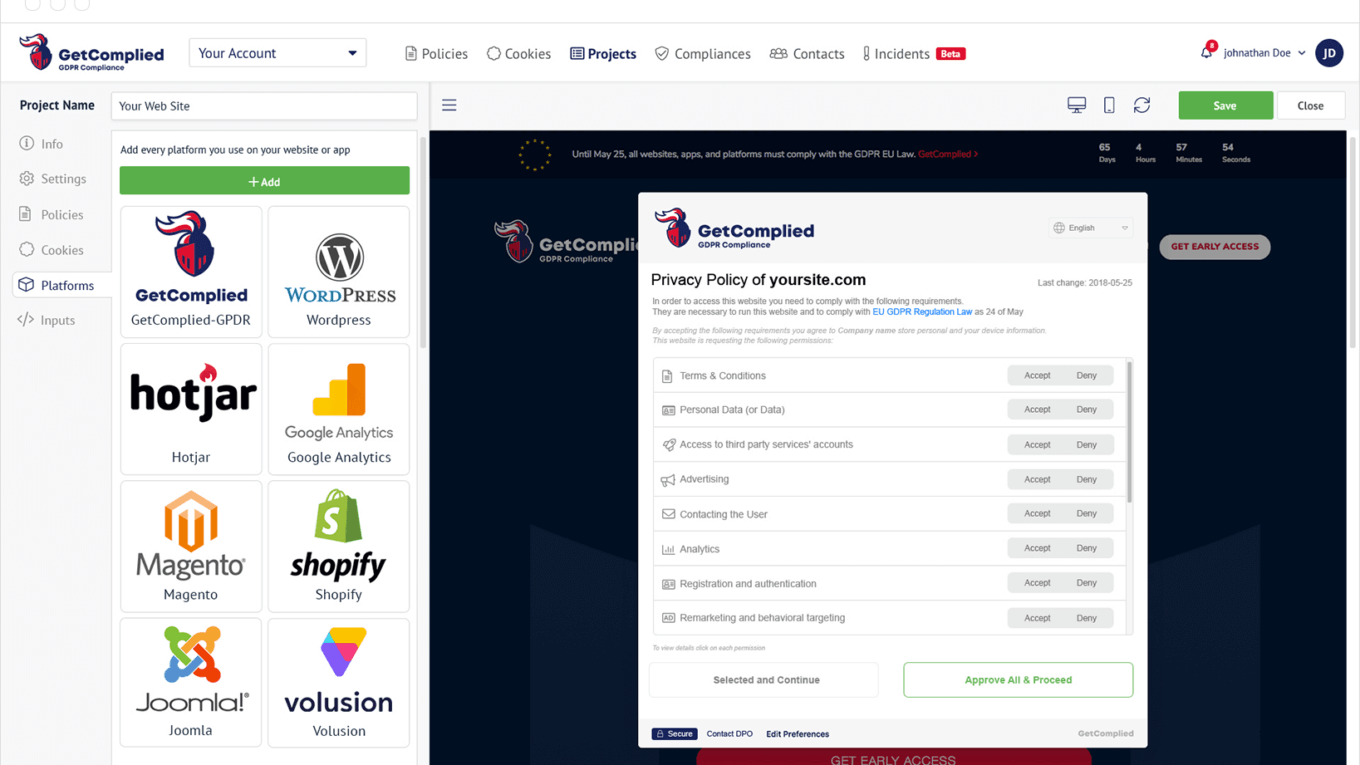 GetComplied's history
With the new data protection regulations on the way, most companies needed to implement an easy and efficient solution to comply with the GDPR (General Data Protection Regulation).
The GDPR was about to transform data processing and handling.
Users' data collected over time couldn't be used anymore, since the consent given before the GDPR had not been updated.
Thus, GetComplied was born out of a need to fill a market gap and offer a reliable answer to a growing problem without any suitable response. GDPR laws are not so linear, which makes it difficult for companies to find answers alone. With GetComplied, companies are not alone. They can comply with the law easily and on budget.
At this moment we operate in over 30 countries, with over 4.000.000 compliances and this numbers are only growing.
We aim to educate society about the GDPR and show that is possible to be fully compliant with fewer costs and effort.
GetComplied's mission is to provide the most efficient solution to help you comply with the law.
We believe that the GDPR doesn't have to be hard nor have huge costs for companies.
Key Features
GetComplied is the complete toolkit that helps you achieve GDPR compliance.
This solution was developed with the aim to always assist and help the costumer. Thus, we opt for user-friendly layouts and features.
GetComplied fits in your website, app, portal, landing page or software smoothly. It's dynamic, responsive and it can be customized with your company's logo and colors.
You can have it as a pop-up bar if you prefer.
GetComplied's key features are:
Compliance with all of your projects
Every project has unique configurations
Create legal documents
Over 400 third-party platformsto include in each project
Cookie detectionfor your website
Use webhooks to ease the maintenanceof your contact list
Form inputsfor your marketing campaigns
Grant users theirdata and requests
Developer documentation
If you are a developer, we have dedicated a space for you.
GetComplied is really flexible, it can be adjusted to better fit each type of online application.
It's compatible with most well-known CMS (Content Manager System) like WordPress and Joomla, or CRM (Client Relationship Management). And also with website creation tools like Wix.
What you can do with dev docs:
We hope you enjoy this project as much as we enjoy developing it for you. Our goal is to help companies comply with the GDPR law and educate them on this subject.
Feel free to contact us at hello@getcomplied.com with questions and suggestions.
We also have a live chat that you can use, find it on the bottom right corner. 
You can find more about us at GetComplied.
Was this post helpful?
Let us know if you liked the post. That's the only way we can improve.